Luke is passionate about music education, with over 20 years experience as a guitar/music tutor Luke has taught in numerous schools, colleges and universities and currently lecturers/tutors on both BMus and BA (hons) contemporary music degree courses. Luke also teaches guitar privately and offers remote online Skype/video call lessons direct from his studio. 
All styles and standards catered for, from beginners to improvers through to the more advanced. 
All aspects of guitar playing and technique are covered as well as contemporary music theory/harmony, ear training, improvisation and composition. 
Lessons are tailor made to suit your individual needs and requirements. 
Luke also uses the worldwide recognised Rockschool and Trinity exam boards should pupils wish to take grade exams. 
Luke is fully DBS checked (a copy of the DBS certificate is available on request). 
 "Wow man, I don't know what to say, I'm blown away you have bothered transcribing this or that anyone would care...haha. Thanks ALOT! It sounds great. I'll stay home and you can go on the road for me haha. Great job man, I'm very flattered" - Steve Lukather (Toto guitarist) 
Sample lesson of 'While my guitar gently weeps' by toto
sample lesson of 'kid charlemagne' by steely dan
sample lesson of 'Breakdown Dead Ahead' by Boz Scaggs
 Frequently asked questions: 
How much does a lesson with Luke cost? 
Lessons are priced at £35.00 per hour or £150.00 for a block booking of five one hour lessons (payable in advance by the 1st lesson of the block booking). 
How do I book lessons with Luke? 
Simply email Luke. On your initial enquiry Luke will ask you for some basic information, if you are a beginner or if you have some previous playing experience, what you want to gain from lessons, what style/styles you are most interested in learning etc. 
How many lessons will I need? 
How long is the proverbial piece of string??? Many students sign up for a complete course of lessons whereas some might just want help with a specific aspect of their playing. It really does depend on the individual student, their ability and how far they wish to progress into the wonderful world of music and guitar playing. 
Am I too young or too old to learn? 
No! Luke teaches students from as young as 7 up to 70 years of age. 
How does an online Skype/video call lesson with Luke work? 
Skype/video call lessons allow students to receive real time, high quality audio and video lessons direct from Luke's studio. A tried and tested method used the world over that enables you to chat and learn with Luke from the comfort of your own home, bedroom, office or school. Transcriptions and backing tracks are also included with each lesson and will be emailed to you in the form of PDF and MP3 files where applicable. 
Email Luke today and start learning and improving straight away! 
luke@lukebradshaw.com
One hour Skype/video call lesson - £35.00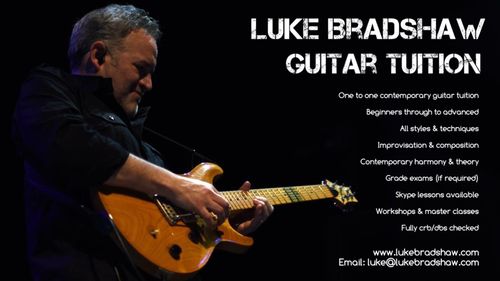 Block of 5 x one hour Skype/video call lesson - £150.00